Ward & Probst, Inc.
Piano & Organ Service
Complete Restoration, Repair, Service, Tuning and Moving
Dale E. Probst RPT & Elizabeth E. Ward RPT
Registered Piano Technicians
The Piano Technicians Guild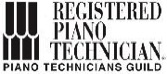 Ward & Probst Piano and Organ Service, based in Wichita Falls, Texas offers the highest quality piano restoration, piano repair, piano service, piano tuning, piano moving and climate controlled piano storage. We have over sixty-five years combined experience as full time piano professionals. We have attended over fifty PTG annual training institutes as attendees, instructors and institute directors and over fifty regional PTG seminars. We have trained at the Steinway factory in New York City, Baldwin, Kimball and Bosendorfer factories as well as the prestigious Yamaha Little Red Schoolhouse.
Elizabeth Ward RPT continues to service pianos in North Texas, Southern Oklahoma and Louisiana. She is a Registered Piano Technician with the Piano Technicians Guild, has Steinway,Yamaha and Bosendorfer factory training and grew up in Kelly Ward's piano shop. With over thirty-five years experience, her specialties are tuning, repair, regulating and voicing. She is a Certified Installer of Piano Life Saver systems by Dampp-Chaser Corporation.
Our mission is to restore pianos from the "Golden Age" of American piano building to their former glory. We use traditional methods and materials in our piano restoration work but we also are open to modern discoveries and make these available for our customers. We value these instruments and strive to restore them with care, dedication and meticulous craftsmanship.
A sampling of completed projects is in the restoration section of our web site here Please note that we repair, restore, refinish, refurbish and rebuild player pianos, orchestrions and reproducing pianos. Automated musical instruments bring so much enjoyment to the home even when the pianist is away! Instruments have traveled to our shop from Texas, Oklahoma, Louisiana, Illinois and New Mexico. The Steinway upright here was made in New York City, traveled to Texas and has gone with its owners to Germany twice and back.
Dale Probst RPT is a Precision TouchDesign™ installer with a license from David Stanwood RPT of Stanwood Piano Innovations . This process enables us to analyze and remedy many piano action problems such as this one here. Combined with advanced training from Christopher Robinson RPT in voicing performance pianos and hands on training from Walter Brooks,Jr. RPT, we are confident we can customize the touch and tone of your piano to you as a player. To protect your investment we recommend the Piano Lifesaver systems. Dale is qualified as a Field Expert and Certified Installer of the Dampp-Chaser Piano Life Saver Systems.
Dale continues to service vintage electronic organs, primarily tone wheel Hammond organs, Baldwin, WurliTzer and Conn church organs. We service most brands and cover the Texoma area of North Texas and Southern Oklahoma. In addition, we have a special fondness for reed organs and have over thirty years professional restoration experience.
Occasionally, we have vintage organs and Leslie speakers for sale. We also have several vintage pianos that are excellent candidates for restoration available. Occasionally we will have a newer instrument in good condition that needs a good home here. Contact us with your requirements and we will endeavor to please.
Thanks for taking the time to visit our site, we hope we can be of service to Texoma for many years to come!
Find us on Facebook at: https://www.facebook.com/wardprobst?pnref=lhc
Saving the world, one instrument at a time!
© Ward and Probst, Inc-1998-2015
NEW!
Now available self scheduling by clicking on the Ward & Probst logo on the right.

HONORS!
To see videos of our interviews with the Oral History Project of the National Association of Music Merchants(NAAM) and Dale's speech on receiving the Golden Hammer, click here